Eye-T.cz, z. s.
We can see the essentials through our hearts,
for the rest we have the ones and the zeros.
Welcome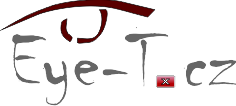 to the official websites of Eye-T.cz – the Registered Society joining both the visually impaired users of electronic compensatory aids based on ICT and their supporters.
Our mission is embodied in the very name of our society: To make by means of information technologies (IT) the lives of visually impaired people, symbolically represented by the word eye, better.
---
What's new
Oct 1, 2020
RNIB PenFriend 3 audio labeller - Manual for visually impaired persons.
Sep 8, 2020
Talking chess clock KAISSA - Manual for visually impaired chess players and enthusiasts.
The archives

---
This year we have been supported by: